It's been about a year since I started this blog so I thought what better way to celebrate than to reveal the truth behind the lies, to reveal who really is pulling the strings of the global system. Who manipulates politics, economics and business at such a high level that even presidents and prime ministers will do what they ask. Who tips the balances of the capitalist military industrial complex in their favour and reaps the rewards. Who has the odd billion stored in one of many offshore tax havens. Who somehow remain hidden in the shadows.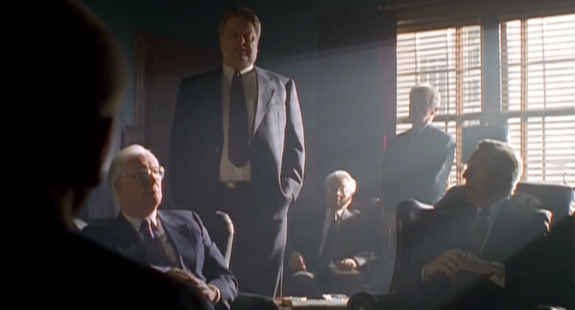 Perhaps, like me, you turned to The X-Files to learn the truth – that there is a cabal of wealthy, white men in grey suits who function above the law and collude with aliens to plan world domination. These men are known as the Syndicate – they're in the picture above – just a bunch of guys in suits hanging out in shadowy rooms smoking cigarettes and drinking tea, the stuff of global conspiracy (fyi, a few X-Files spoilers on the way). The men of the Syndicate work with a bunch of aliens who want to take over the world. The men do all they can to ensure the public never knows about this: they plan and enact elaborate conspiracies to ensure abductees, alien sightings and even alien attacks are all covered up and explained away; they have the military at their disposal; they bribe and threaten government officials; they kill anyone who knows too much and often try to kill FBI agent Fox Mulder (who is always one step away from revealing their dastardly plans). In short, they pull an awful lot of the strings of power. But, the thing is, they do it very badly.
Over and over again these silly, old men make mistakes and let things slip. So many of their secret experiments using alien DNA and alien tech go awry and result in many people needlessly dying. Then they have to clean up the mess and kill anyone who spotted the mess, usually Fox Mulder. To conceal their mistakes they have to spend an awful lot on bribes and concoct exceptionally elaborate cover-up stories (often more ludicrous than the actual alient-based truth). Then they have to kill a few more people, including JFK and Martin Luther King, who threaten the balance of power. They also make a very bad team – they don't trust each other and frequently lie to one another when they fail to successfully 'manage' a 'situation'. So yeah, they're the ones behind it all, but they're also a bunch of idiots.
And there are times when I can't help but think this is quite a good analogy for the real people behind the real system (unless there is actually an alien-government conspiracy and The X-Files was a documentary, not sci-fi). There's a certain comfort in believing that a group of super-ruthless intellectuals are playing puppet master to the world's problems and tipping the capitalist military industrial complex in their favour. And yes, there are certainly people doing this – creating/using multiple tax havens, subsidising environmentally destructive industries whilst undermining sustainable energy, investing/trading in weapons. They often do this because they're greedy and/or it makes "business sense" (i.e. maximise short-term profit at any expense). But is it a joined-up, super smooth system of conspiracy and collusion, I doubt it, I often just think it's greedy, insecure, selfish people with far too much power doing what greedy, insecure, selfish people do, namely look out for number one. I can't imagine it's actually fun being one of these people ("Hey, darling, how was your day?" "Oh, you know, the usual – I hid lots of our money in an offshore account to avoid taxes and I sold a load of weapons that will be used to kill innocent people."). Certainly, the Syndicate don't seem to have much fun as they're constantly paranoid their nefarious ways will be revealed and they spend a lot of time planning how to kill one another. So, maybe those shady characters in that shady room aren't quite so clever as the conspiracies would have us believe and, in a way, that makes it worse – such a shame that it's a bunch of idiots bringing about doomsday far too far in advance.